DYNA is a dynamic and flexible plant science R&D tool, perfect for research and laboratory use. It is designed to help you move your research and R&D forward, with countless spectral and intensity options and full wavelength control and flexibility from UVA to Far-Red.
This light is not aimed at production, instead the enormous flexibility offered by extreme spectrum tunability enables experimentation with light wavelengths, to determine their effect on crops and crop production. Researchers around the globe use DYNA to aid diverse research applications with precision spectra control and wireless functionality.
Designed with plant scientists in mind, DYNA is at home in any research or agtech environment. Featuring nine individually controlled wavelengths ranging from 380nm (UVA) to 735nm (Far-Red), DYNA can offer full R&D capability Innovative temperature management systems allow you to maintain precise temperature control in growth chambers and remove up to 50% of the heat generated by fixtures.
This light is a must for any grower that is aiming to develop growth recipes alongside crop production.
Suitability:
Designed for research into plant development, plant physiology, plant biochemistry, and entomology, etc.
Research lab walk-in chambers, growth cabinets and research greenhouses.
Phytoceutical development and medical plants.
Features:
1000 x 10-9 spectral combinations
50% removable heat
Used by 134 research institutions around the globe
CE, ROHS
Spectra:
DYNA offers 9 wavelengths ranging from UV-A to far red, and has the potential to handle all kinds of research projects.
Research Plate: The Research Plate includes 9 tuneable LED channels at 380nm, 400nm, 420nm, 450nm, 520nm, 630nm, 660nm, 735nm, and a white 5700K LED channel.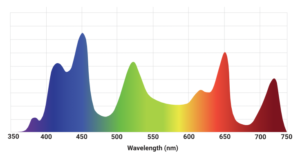 Attributes:
| | |
| --- | --- |
| Wattage | 10.5 to 420 W |
| Dimensions (L x W x H) | 425  x 219 x 199 mm |
| Weight | 8 kg |
| Heat Value | Up to 1330 BTUs/hr |
| Thermal Management | Active, variable speed cooling. |
| Max Ambient Temperature | 40 °C |
| Life Time | 50 000 hrs |
| Power Factor | |
| Beam Angle | |
| Control | helioCORE/HelioCONNECT Compatible |
| Warranty | 3 years |
| Output | 390 μmol/s (including far-red) |
| Efficacy | 1.0 μmol/j (including far-red) |
Download Spec Sheet