The Valoya L-Series are powerful LED tubes that produce minimal heat. They are slim, bright, and light, and offer absolute light uniformity. 
The low levels of heat produced means the L series can be placed right above the canopy, making it ideal for vertical farming, tissue culture, growth chambers, grafting and growing cannabis in the vegetative stage. The T8 form factor allows the L-series products to be installed in fluorescent tube fixtures without modification (fixtures with magnetic ballast). By using optional end-caps the IP rating can go as high as IP65.
These LEDs have been carefully designed to ensure every light photon is directed toward the plant and not wasted. The spectrum remains the same even when the luminaire is centimetres away from the plant thus avoiding stretching and overall uneven growth
The L series comes in 4 length/strength options (L14: 900mm/14W; L18 -1200mm/18W; L28 – 1200mm/28W; L35 – 1500mm/35W), across (up to) four spectrum options (see below for detail).
*This item comes without cables, fittings, etc. – please see the accessories for options.
Suitability:
Vertical farming

Propagation/tissue culture 

Greenhouses and nurseries

Commercial grow operations

Controlled environment agriculture (CEA) facilities

Indoor farming

Urban farming
Features:
CE Marked (all products), RoHS Compliant (all products), cETLus (L28 and L35)

Designed to need fewer cables

Up to 135 luminaires on a single mains input.

Customizable cable chain

Easy installation

IP65 end-cap

20 ~ 250 μmol/m2 /s 

Optional Valoya end-cap set with ingress protection available to order.

Non-dimmable
Spectra:
Model L14 – Spectra available: NS12
Model L18 – Spectra available: AP67
Model L28 – Spectra available: AP67, AP673L, G2, NS12
Model L35 – Spectra available: AP67, AP673L, G2, NS12
NS1/NS12 – sun-like, wide spectrum for research and biotech. All growth stages. The spectrum that illuminates the chambers and greenhouses of some of the world's largest universities, research institutes and agricultural companies
AP67 – Spectrum for vegetative and strong generative growth. Vegetative growth, flowering, tissue culture, propagation. Designed and proven to quickly boost plant biomass and induce flowering.
AP673L – Spectrum for strong vegetative growth. Vegetative growth. Designed and proven to quickly boost plant biomass and produce plants saturated with flavour and nutrients. Ideal for the cultivation of leafy greens.
G2 – Spectrum for enhancing vernalisation process, flowering and stem elongation. Vernalisation, flowering, rooting. Designed to enhance vernalisation process by reducing the time required for flowering induction. Greater plant survival, improved development by formation of strong root ball.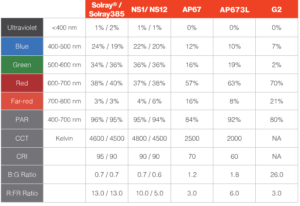 Attributes:
| | | | | |
| --- | --- | --- | --- | --- |
| | L-Series (L14) | L-Series (L18) | L-Series (L28) | L-Series (L35) |
| Wattage | 14 W | 18 W | 28 W | 35 W |
| Dimensions (L x D) | 895 mm / Ø 26 | 1198 mm / Ø 26 | 1198 mm / Ø 26 | 1498 mm / Ø 26 |
| Weight | 0.29 kg | 0.36 kg | 0.36 kg | 0.44 kg |
| Thermal Management | Passive cooling | Passive cooling | Passive cooling | Passive cooling |
| Max Temperature | 40 °C | 40 °C | 40 °C | 40 °C |
| Life Time | 50 000 hrs | 50 000 hrs | 50 000 hrs | 50 000 hrs |
| Warranty | 5 years | 5 years | 5 years | 5 years |
| Output | 20 ~ 250 μmol/m2 /s | 20 ~ 250 μmol/m2 /s | 20 ~ 250 μmol/m2 /s | 20 ~ 250 μmol/m2 /s |
| Efficacy | Up to 2,1 µmol/W​ | Up to 2,1 µmol/W​ | Up to 2,1 µmol/W​ | Up to 2,1 µmol/W​ |
Download Brochure
Download Spec Sheet