The Valoya C-Series are slim, high-intensity LED bars, designed for environments such as growth chambers, vertical farming, and for demanding research applications. These slim, dimmable LED bars are highly resistant to dust and humidity (IP66) and come in three different lengths.
The C-Series is ideal for growth rooms and other demanding applications where high intensity lighting is needed. These ultra slim and lightweight nature of these LED bars makes them easy to install even in places with very limited space. The bar shaped form factor minimizes shadow effect and makes it suitable for various vertical farming solutions.
The C-series have been carefully designed to ensure every light photon is directed toward the plant and not wasted. The spectrum remains the same even when the luminaire is centimetres away from the plant thus avoiding stretching and overall uneven growth.
The C series comes in 3 length/strength options (C65: 1200mm/65W; C75 -1500mm/80W; C90 – 1800mm/90W), across three spectrum options (AP67, AP673L, NS12 – see below for detail).
Suitability:
Vertical farming
Propagation/tissue culture
Greenhouses and nurseries
Commercial grow operations
Controlled environment agriculture (CEA) facilities
Indoor farming
Urban farming
Attributes:
CE Marked, RoHS Compliant, cETLus
Dust & humidity resistant
(wet location rated)
Dimmable
Heat directed upwards,
away from the plants
Easy to install
Minimal heat produced
IP66
50 ~ 400 μmol/m2 /s
Spectra:
Spectra available: AP67, AP673L, NS12
NS1/NS12 – sun-like, wide spectrum for research and biotech. All growth stages. The spectrum that illuminates the chambers and greenhouses of some of the world's largest universities, research institutes and agricultural companies
AP67 – Spectrum for vegetative and strong generative growth. Vegetative growth, flowering, tissue culture, propagation. Designed and proven to quickly boost plant biomass and induce flowering.
AP673L – Spectrum for strong vegetative growth. Vegetative growth. Designed and proven to quickly boost plant biomass and produce plants saturated with flavour and nutrients. Ideal for the cultivation of leafy greens.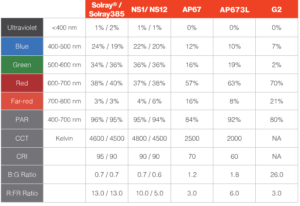 Attributes:
| | | | |
| --- | --- | --- | --- |
| | C-Series (65) | C-Series (75) | C-Series (90) |
| Wattage | 65 W | 80 W | 90 W |
| Dimensions (L x W x H) | 1175 x 45 x 33 mm | 1475 x 45 x 33 mm | 1750 x 45 x 33 mm |
| Weight | 2.8 kg | 3.3 kg | 3.8 kg |
| Thermal Management | Passive cooling | Passive cooling | Passive cooling |
| Max Ambient Temperature | 30 °C | 30 °C | 30 °C |
| Life Time | 50 000 hrs | 50 000 hrs | 50 000 hrs |
| Warranty | 5 years | 5 years | 5 years |
| Output | 50 ~ 400 μmol/m2 /s | 50 ~ 400 μmol/m2 /s | 50 ~ 400 μmol/m2 /s |
| Efficacy | Up to 1,8 µmol/W | Up to 1,8 µmol/W | Up to 1,8 µmol/W |
Download Brochure
Download Spec Sheet