This is a simple and effective LED fixture, which was designed to replace HPS lighting as the system of choice for grow houses. However, this straight forward top-lighting solution is a robust and effective grow-light, able to handle challenging grow room conditions, including high humidity (IP65 rated), and is a lightweight, plug-and-play fixture, which is very easy to install.
It predominantly emits white light making it easy to see the plants' colour, and has the latest diode technology, which provides low power consumption and increased efficiency.
Grow Horti is a 245-watt LED fixture developed based on Senmatic's many years' of experience with LEDs and an increasing market demand for a simple, user-friendly and effective LED fixture. The fixture ensures simple and stable operations, and most importantly healthy and effective plant growth.
Suitability:
Greenhouses and nurseries
Commercial grow operations
Controlled environment agriculture (CEA) facilities
Indoor farming
Urban farming
Features:
The composition of the diode colours is adapted to plant requirements (the photosynthetically active light), for improved growth.
The fixture is equipped with an optical lens system ensuring a constant and precise light on the plant.
The blue light component may reduce the need for Plant Growth Regulation (PGR) and results in a more compact plant.
Limited heat production. The advantage is that by heating from an alternative heat source instead of the fixtures a healthy and uniform climate is ensured without large fluctuations in temperature.
Long lifetime with no reduction of light output over time.
Grow Horti can easily connect to any climate control regardless of brand and supplier.
The fixture is delivered with cable and 2 fittings for hanging
Spectra:
Dotted lines on the graphs indicate the active area of the photosynthesis – meaning the plants need for light.
This LED spectra has been specifically designed to target plant requirements. It is a tailored mix of red, blue, and a little green, which are essential for the plant growth.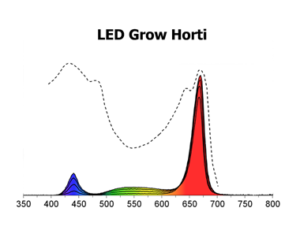 Attributes:
| | |
| --- | --- |
| Wattage | 245 |
| Dimensions (L x W x H) | 238 x 235 x 190 mm |
| Weight | 3.5 kg |
| Max Ambient Temperature | 40 °C |
| Output | 669 μmol/s |
| Efficacy | Up to 2.73 µmol/s per Watt |
Download Spec Sheet