The FL300 Grow LED top-light is a 550 watt fixture emitting light in the photosynthetic active region of the visible light spectrum. These LEDs would suit most modern production greenhouse and grow room environments, and are designed to withstand the harsh environment of a glass house and keep working year after year. The minimalistic design means easy installation using standard connection technology, and with a minimal shadow footprint, the FL300 Grow is able to produce good quality plants year round.
The FL300 Grow is equipped with a patented active cooling system that enables a low LED temperature and therefore a long lifetime that a passive cooled LED fixture does not have. It also boasts a patent-pending optical lens system that enables a traditional installation plan similar to HPS with homogenous distribution profile on plant level – but with less waste of light. The light spectrum can also be designed for individual crops in combination with DGT by Senmatic's LED Light Controller or LCC4 Climate Control systems.
The FL300 Grow is CE marked according to standards in horticultural lighting and ROHS compliant.
Suitability:
Greenhouses and nurseries
Commercial grow operations
Controlled environment agriculture (CEA) facilities
Indoor farming
Urban farming
Features:
Control of spectral composition and intensity
Dynamic control of the light intensity
The natural replacement for the conventional HPS systems
Enables easy integration with climate control systems
Control the intensity of the taste of herbs and strawberries
Control the height of the plant
Minimize the use of Plant Growth Regulation (PGR)
Long lifetime with no reduction of the light output
Consistent light on the plants due to an optical lens system (patent pending)
Danish developed and manufactures since 2015
Spectra:
The spectral distribution of FL300 Grow together is focussed towards the general action spectrum of plants. Spectral distribution for FL300 shown for 2, 6, 10 14 % blue.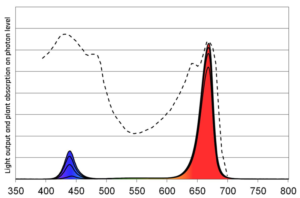 Attributes:
| | | | |
| --- | --- | --- | --- |
| | F300 Sunlight | F300 Grow White | F300 Grow |
| Wattage | 100 – 550 W | 100 – 550 W | 100 – 550 W |
| Dimensions (L x W x H) | 550 x 230 x 160 mm | 550 x 230 x 160 mm | 550 x 230 x 160 mm |
| Weight | 12.4 kg | 12.4 kg | 12.4 kg |
| Thermal Management | active cooling system | active cooling system | active cooling system |
| Max Ambient Temperature | 40 °C | 40 °C | 40 °C |
| Life Time | 70000 hrs | 70000 hrs | 70000 hrs |
| Control | LCC4 Controller | LCC4 Controller | LCC4 Controller |
| Output | 947 μmol/s | 1265 μmol/s | |
| Efficacy | Up to 1.5 µmol/s per Watt | Up to 2.3 µmol/s per Watt | Up to 2.5 µmol/s per Watt |
Download Spec Sheet
Download Brochure