A trend setting design, powerful Cree modules and a robust waterproof build are the foundations of the Telos light units.
The use of passive natural convection has eliminated the need for a fan, reducing noise output and significantly increasing the life span of the light as it contains no moving parts. Lights are provided with an easy-to-use versatile hanging system.
The Telos 6 is capable of providing 100% light for up to 85,000 hours continuous use (almost 10 years). It has optics designed by experts to give 87.6 degrees of beam angle and to provide an even distribution of light. It is highly waterproof and has been tested to withstand high pressure jets, as well as being protected from dust and other particles. The entire unit has been designed to enable the LED boards to be upgraded as technology changes.
Suitability:
Greenhouses and nurseries
Commercial grow operations
Controlled environment agriculture (CEA) facilities
Indoor farming
Urban farming
Research and R&D
Features:
CE marked, RoHS compliance, EMC and EMI certified
IP66 waterproof rated;
High-quality waterproof twistlock connectors from Wieland Electric provide safe and reliable power in any condition.
Telos 6 is the smallest unit in the range and is best suited to setups where space and temperature need to be tightly controlled.
Spectra: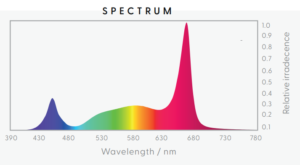 Attributes:
| | |
| --- | --- |
| Wattage | 175 W |
| Dimensions (L x W x H) | 309 x 236 x 113 mm |
| Weight | 4 kg |
| Thermal Management | Passive cooling |
| Max Ambient Temperature | 40 °C |
| Life Time | 85 000 hrs |
| Beam Angle | 87.6° |
| Warranty | 3 Years |
| Output | 420 μmol/s |
| Efficacy | Up to 2.4 µmol/j |
Download Spec Sheet