The Valoya BX-Series are high-intensity LED bars designed for demanding cultivation and research applications.
The BX-Series are robust LED bars designed for growth chambers and multitier cultivation. With the light intensity of up to 2.5 µmol/W and the dimming function these bars can be placed anywhere between 10 cm and 4 m above the canopy (4″ – 13′). The BX-Series are slim, light, humidity, and impact resistant. These LED bars are ideally suited to applications demanding high light intensity with absolute light uniformity.
The BX-Series is rated IP67 meaning it is completely dust-tight and can withstand water submersion without compromising any functionality. Typical lifetime is 50,000 hours for the light output to drop to 70% of nominal.
The BX-Series comes in 3 length/strength options (BX90 – 88W/900mm; BX120 – 132W/1200mm; BX180 – 199W/1800mm), across up to five spectrum options (AP67, AP673L, NS1, G2, Solray/Solray385 – see below for detail).
Suitability:
Vertical farming
Propagation/tissue culture
Growth rooms
Greenhouses and nurseries
Commercial grow operations
Controlled environment agriculture (CEA) facilities
Indoor farming
Urban farming
Features:
CE Marked, RoHS Compliant, cETLus
Up to 2.5 µmol/W
200 ~ 1000 μmol/m2/s
Dust & humidity resistant (wet location rated)
Dimmable
Tempered glass cover
Easy to install
Heat directed upwards, away from the plants
Spectra:
Model BX90 – Spectra available: AP67, AP673L, G2, NS1
Model BX120 – Spectra available: AP67, AP673L, G2, NS1, Solray, Solray385
Model BX180 – Spectra available: AP67, AP673L, NS1
NS1/NS12 – sun-like, wide spectrum for research and biotech. All growth stages. The spectrum that illuminates the chambers and greenhouses of some of the world's largest universities, research institutes and agricultural companies
AP67 – Spectrum for vegetative and strong generative growth. Vegetative growth, flowering, tissue culture, propagation. Designed and proven to quickly boost plant biomass and induce flowering.
AP673L – Spectrum for strong vegetative growth. Vegetative growth. Designed and proven to quickly boost plant biomass and produce plants saturated with flavour and nutrients. Ideal for the cultivation of leafy greens.
G2 – Spectrum for enhancing vernalisation process, flowering and stem elongation. Vernalisation, flowering, rooting. Designed to enhance vernalisation process by reducing the time required for flowering induction. Greater plant survival, improved development by formation of strong root ball.
Solray – Optimized sunlight for commercial horticulture and research applications. All growth stages. A balanced range of wavelengths from UV to FR suitable for all growth stages. It has been tested on and is suitable for most plant species cultivated worldwide. Solray works as both sole source or supplemental light.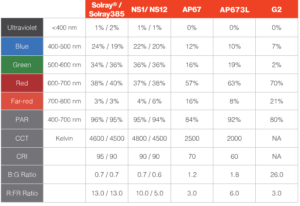 Attributes:
| | | | |
| --- | --- | --- | --- |
| | BX-Series (BX90) | BX-Series (BX120) | BX-Series (BX180) |
| Wattage | 88 W | 132 W | 199 W |
| Dimensions (L x W x H) | 903 x 73,5 x 58 mm | 1176 x 73,5 x 58 mm | 1722 x 73,5 x 58 mm |
| Weight | 3.5 kg | 4.1 kg | 5.4 kg |
| Thermal Management | Passive cooling | Passive cooling | Passive cooling |
| Max Temperature | 40 °C | 40 °C | 40 °C |
| Life Time | 50 000 hrs | 50 000 hrs | 50 000 hrs |
| Warranty | 5 years | 5 years | 5 years |
| Output | 200~1000 μmol/m2 /s | 200~1000 μmol/m2 /s | 200~1000 μmol/m2 /s |
| Efficacy | Up to 2.5 µmol/W​ | Up to 2.5 µmol/W​ | Up to 2.5 µmol/W​ |
Download Brochure